DETAIL
【Welcome party · farewell party · surprise】 Introduce the five great benefits you can choose to celebrate the leading role grandly!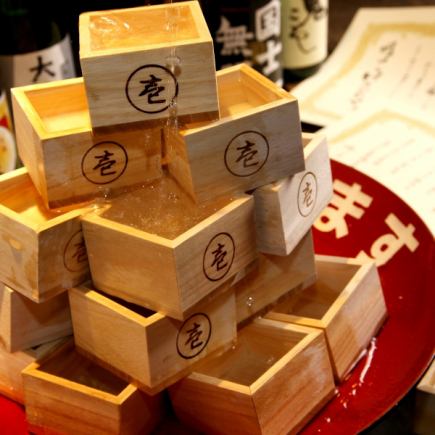 Birthday party / Farewell party / Welcome party / Gratitude society / Seminar launch / Graduation celebration / Employment celebration / Alumni association / Student concert etc 10 biggest benefit service coupons that can celebrate the leading role on a special occasion! Surprising so it will be a memorable day, no mistakes !! Leave your celebration tomorrow!
Course menu
5 Great Benefits All Free !!
【1】 The secretary's most pleasing award !!
One person free of charge for 10 people or more!
There is no need to obtain the leading role money ♪
【2】 Robust! Celebrate with big cup ♪
You can celebrate by pouring sake on a big cup larger than 40 cm in diameter !!
Even if the leading role drinks, it is okay to have the participants turn and drink, too, no doubt that it will be exciting anyway ♪
【3】 Amazing! Fireworks & message attached dessert plate
As a celebration's standard!? After all, celebrations are on the plate !!
The standard celebration is when the staff will give you the timing when you book
Please tell.We celebrate with full power ♪
【4】 ♪ I like that song I love the leading role BGM can also be selected !!
A celebration is important after all the atmosphere! The tears that can cry, the exciting songs
Please bring any memorable song etc !!
【5】 A meal voucher for next use!
For every celebration, the full power of the staff will get excited !! I promise!
Mr. Ms. Secretary who wants to enjoy the leading characters and guests,
Please do consult with professional Aiyo staff by all means!
Coupon that can be used
Five celebrated grand prixes are free ♪ Free of charge for one or more people with a course of more than 10 people ※ For details, please go to the course menu

Presentation conditions

At the time of booking and when visiting

Conditions of use

【5 Great Benefits】 1 pair / 1 ticket available / Can be used in conjunction with the course / reservation required up to the previous day / 1 person free for over 10 guests / not combined with other tickets

Expiration date

Until the end of May, 2018
2018/05/01 update